LOGBOOK – PINZOLO AND DUBLIN: ALL ABOARD!
Logbook, Saturday the 6th November, 2021.
It often comes to mind that old adage that states 'Calm seas never made good sailors'. After the pandemics gave some clearing after a turbulent period, four of our teachers involved in the Erasmus+ project were able to head to Pinzolo and Dublin in a single sitting.
The task to perform was not easy at all. We had to carry out everything we could not do in the last times, so after our beloved Italian and Irish counterparts visited us in Barcelona, we still had the mission of bringing to completion the whole hatching of what our efforts for the last three years had been. It is not the easiest endeavour to concentrate 9ish months of work in a week, but just as someone's grandfather said once, 'if it does not take an effort, it is worth nothing'.
Thus, we gathered all of the work that we had been working on during those secluding hideous times, which was not a little amount, by the way, and headed to the Dolomites to what should have been giving our all. And so we did.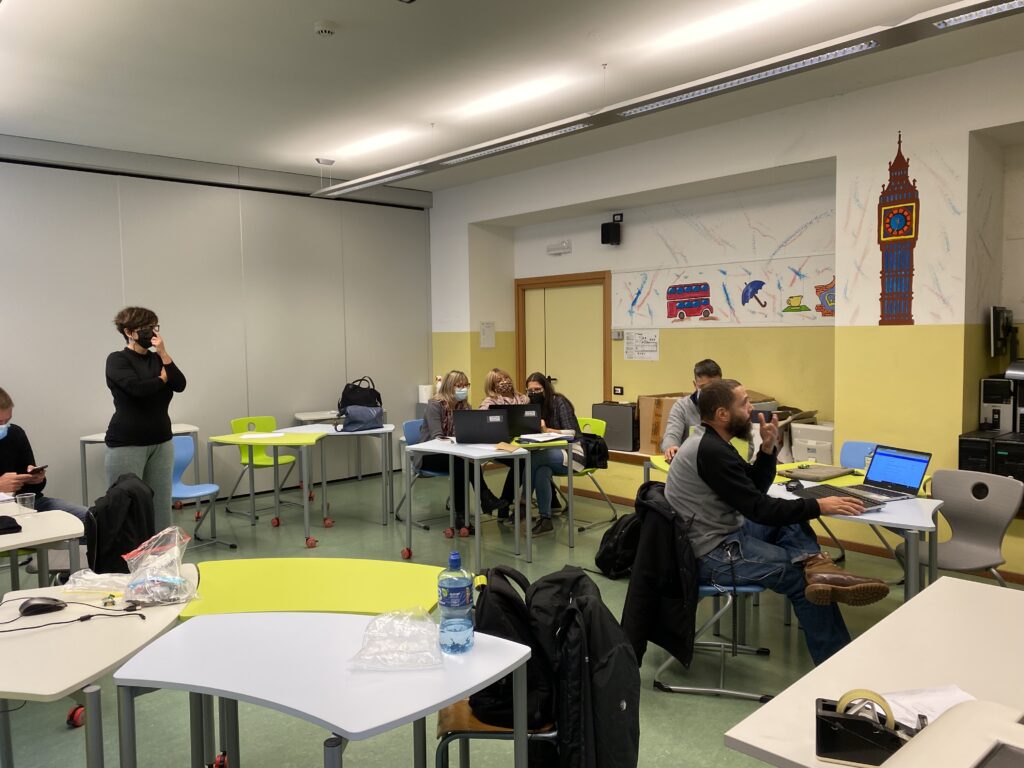 Logbook, Monday the 8th November
Fortunately, we had been able to foresee what was coming, so we brought with ourselves the 90% of what as expected from our side: Our Libertas case study and its synthetical homologue in the shape of a coloured and, what we believed, was a neat presentation to be displayed at Trinity College on Friday the 12th. So we basically joined our counterparts in Pinzolo in order to spot any lacks or loose ends that needed some attention.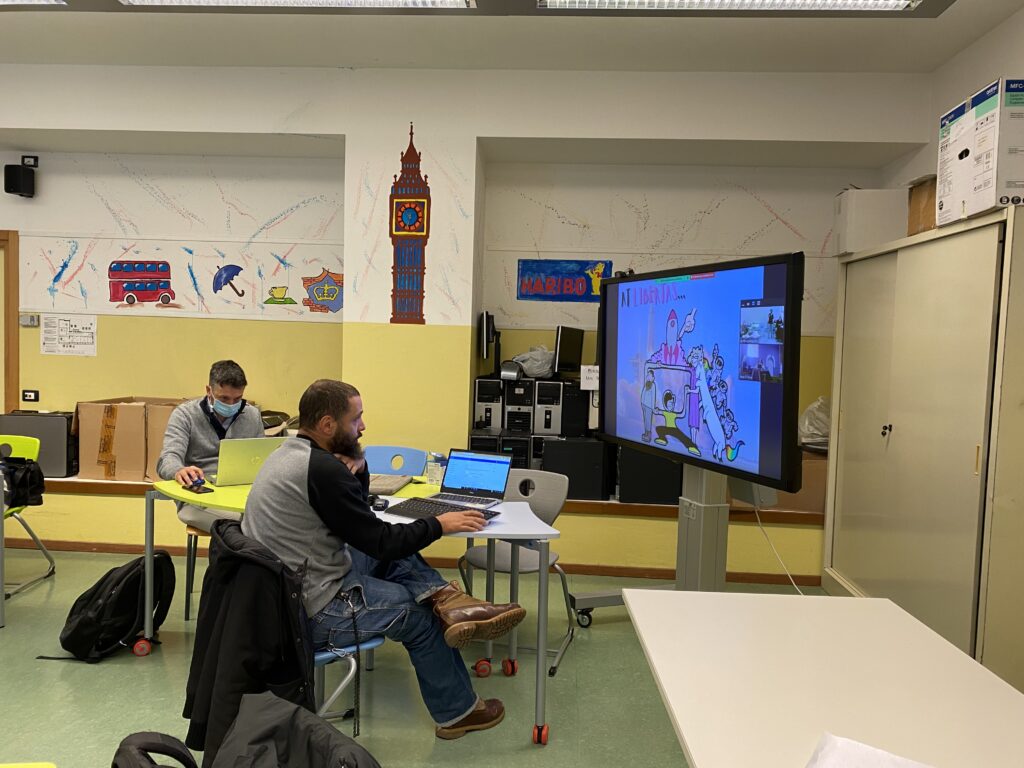 This is basically how we spent the first two days of our journey: 'This information is unnecessary, this is redundant, I miss this, that…Oh, I dig the graphics…'. The uncanny ability of our Italian friends along with Ciarán and Jane's efforts to lead us to the right shores made it sort of a comprehensive yet pleasant task.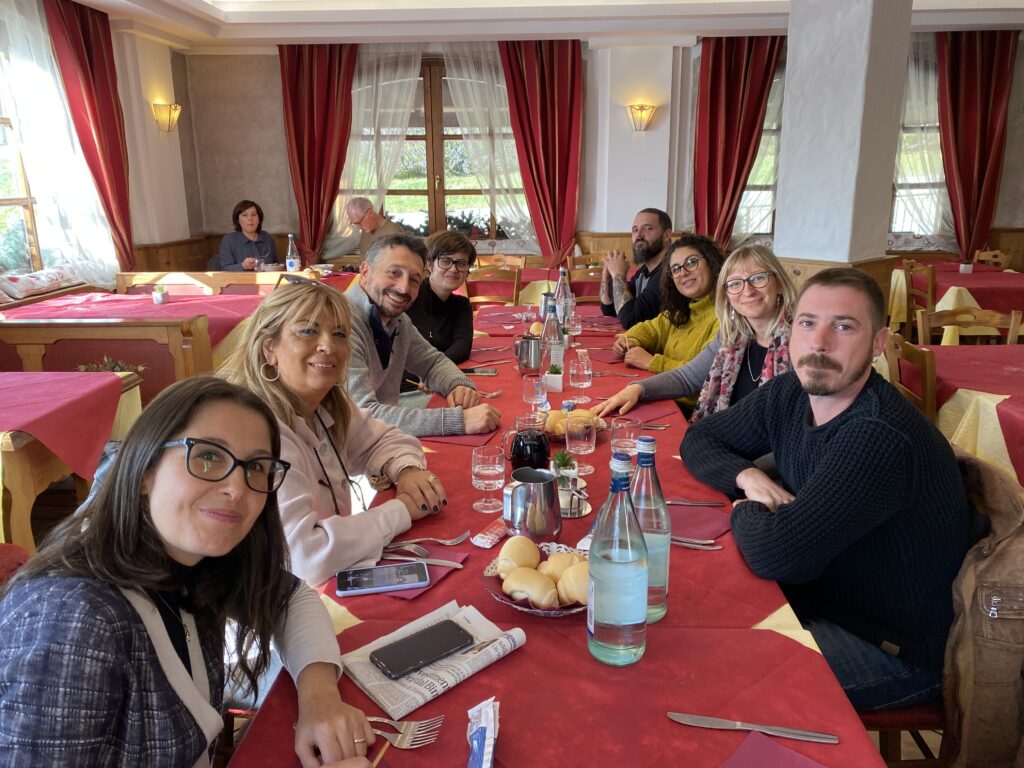 Logbook, Tuesday the 9th November
Tuesday came and it brought our main rehearsal to Dublin along, embodied in the multiplier event our Italian folks had organised: Yet complete, we found some important flaws in our performance, although our first orator, Anna, presented her part in Italian. It was not as brilliant as it should have been: Sometimes we found difficult to express some concepts due to the English level of the audience, which we were unaware of, some unclear boundaries about who presented what…All in all, it was not bad, but not perfect. Anyway, we knew this would happen, but it was a very positive experience in the end. Besides, the insights our Italian friends delivered to the audience about the experience was in such a personal level that we felt quite flattered about the opinions and conclusions they flung over the table about the project, their part in it and how the other teams had been relevant to them, both in work and personal terms. We felt really proud and satisfied about these, and it was totally reciprocal.
So, all in all, it was a lot of work, but the type of work that does not hurt, nor annoy nor feels meaningless. I think everyone involved in the project felt like a little something – without which the whole structure staggers -, within a huge everything, and I strongly believe that anyone in an E+ project such as ours, will feel completely the same.
Logbook, Wednesday the 10th November
Wednesday the whole crew cast off and headed from Pinzolo to Dublin after two days of hard work and a beautiful time along with nature, hospitality and great memories – among them, the likeliness of being chased by wolves or bears, which is no joke! -. Despite the weather and the shock of hitting a sort-of-frantic city as Dublin, after the peaceful and quiet landscape of the Rendena Valley in Trentino, we must say the Emerald capital has a captivating vibration and idiosyncrasy that makes every single step on it special.
After settling in our place, we, the Spanish team, took advantage of the hours left before meeting up with our peers at Mercy Secondary School in Inchicore and seized the opportunity to visit our surroundings and wander around for a while.
Logbook, Thursday the 11th November
The day after being familiar to our area, we met altogether at Mercy Secondary School in Inchicore – some of us went on a 1h30' walk there from O'Connell bridge – in order to see how our presentations had developed after the showcase in Pinzolo. In a nutshell, everything was quite the same as in there with the exception of the strategies we would use to present it to the main audience at Trinity College. It felt a little bit like when you are rehearsing for a theatre play and you cannot get on fine with those two short lines that yet short, are crucial.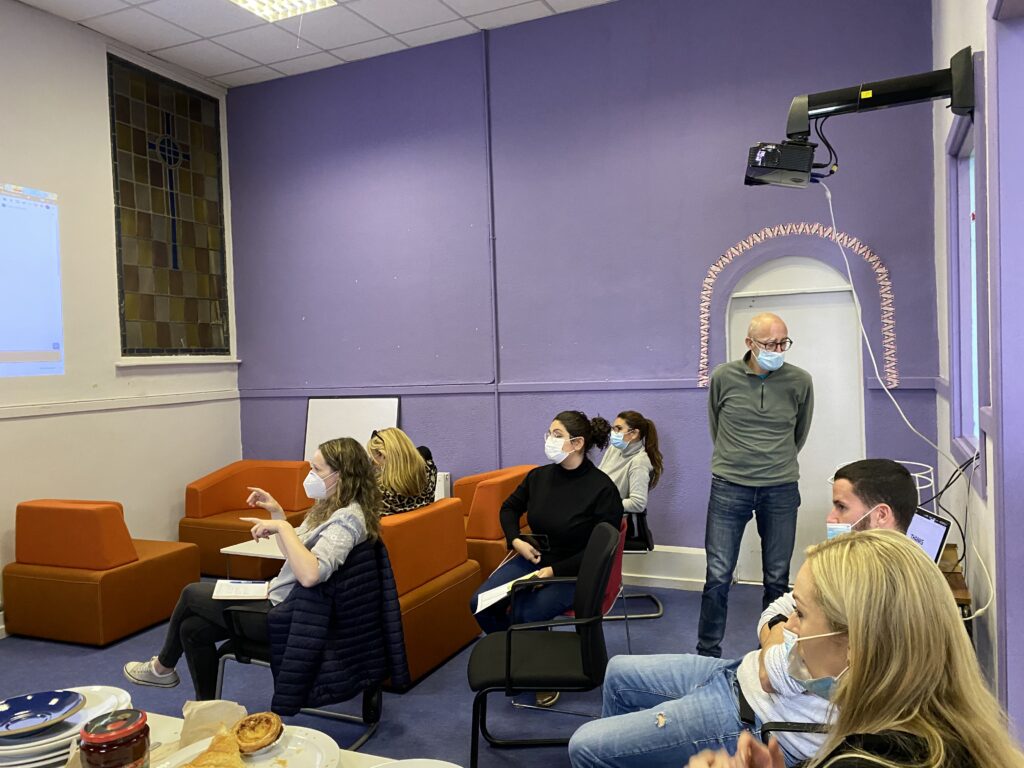 More graphics, more information, more condensed and setting the whole thing so it did not turn into a dull, overwhelming and drilling exercise of tossing three years of arduous work to an audience who, after three hours of presentations, alike or not to ours, would not be as receptive as we would like them to be. It was our chance to say: 'We are from El Prat. This is what we are. This is what we do and you are going to love it to the bits'. Daunting? Of course. Difficult? Indeed. Thrilling and exciting? As our beloved fellow and co-worker Xavi would say, 'ROCK ON!'.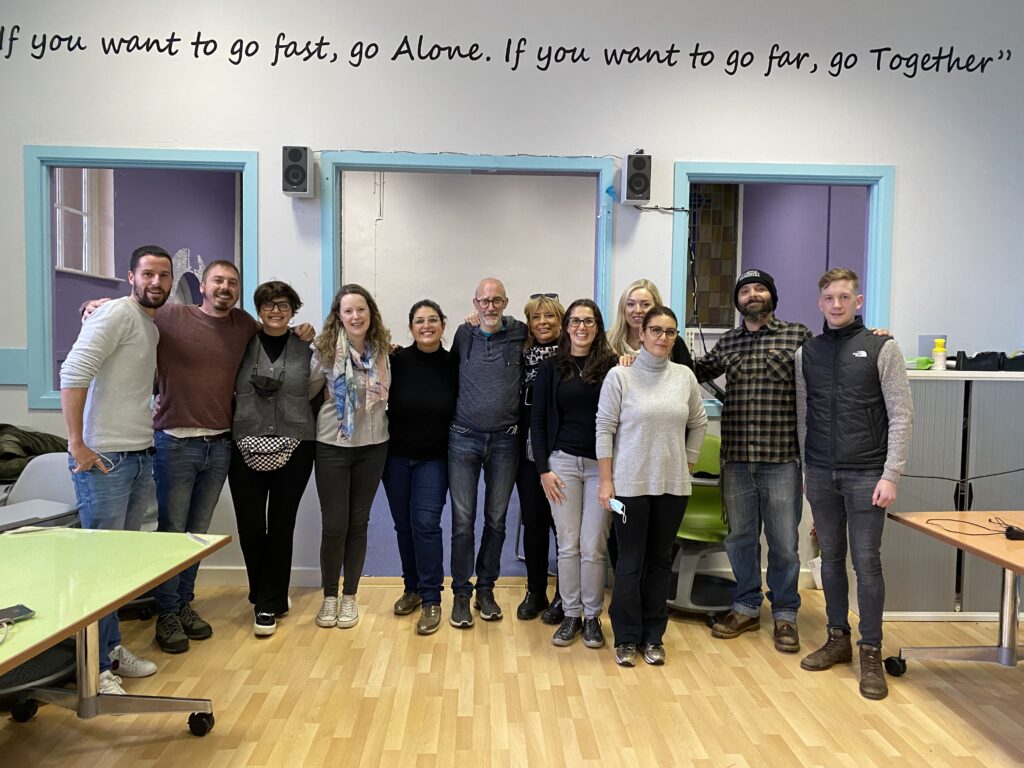 So there we were, all the teams together under the same roof, presenting our work and helping each other smoothing those tiny flaws that might have remained. Nothing to worry about: Mercy SSI was brilliant at presenting their STEM based project applied to the Pathways to College area, and their spokesman, Donal Byrne, is such a fine and entertaining orator who, in spite of our obvious lack of mastery understanding some accents, delivered a brilliant, motivating and inspirational speech. Lorena Pellegrino, whose communicating abilities are far beyond the standard, along with the rest of the Italian crew, finally presented their Mentoring project, designed and shaped by Stefano da Toni in record time; thorough, comprehensive and a whole inspiration to everyone who believes that the role of teachers as mentors, orientators and companions-to-students-somehow is paramount. Finally, after filing out some of the shards of our speech, rather than the presentation itself, we delivered our Leadership in Learning part, which was equally, upon our humble opinion, nice. Well, we all seemed ready and set for the last round: Trinity College.
After such a demanding morning in Inchicore, we spent – despite the weather – a splendid lunchtime with our Irish and Italian friends at the highest pub in Ireland, the Johnny Fox's, which…well…after staying a couple of days in the Dolomites area was not that impressive highness-wise, but by no means less attractive, one must say.
Logbook, Friday the 12th November
Last round. This is what we came for and this is where we were supposed to give our best. Trinity College. We had spent the night before studying, reviewing, discussing and strengthening what our performance was going to be. We were so enthusiastic about what we were about to do that no one would say that we were just there for a 10 minutes presentation.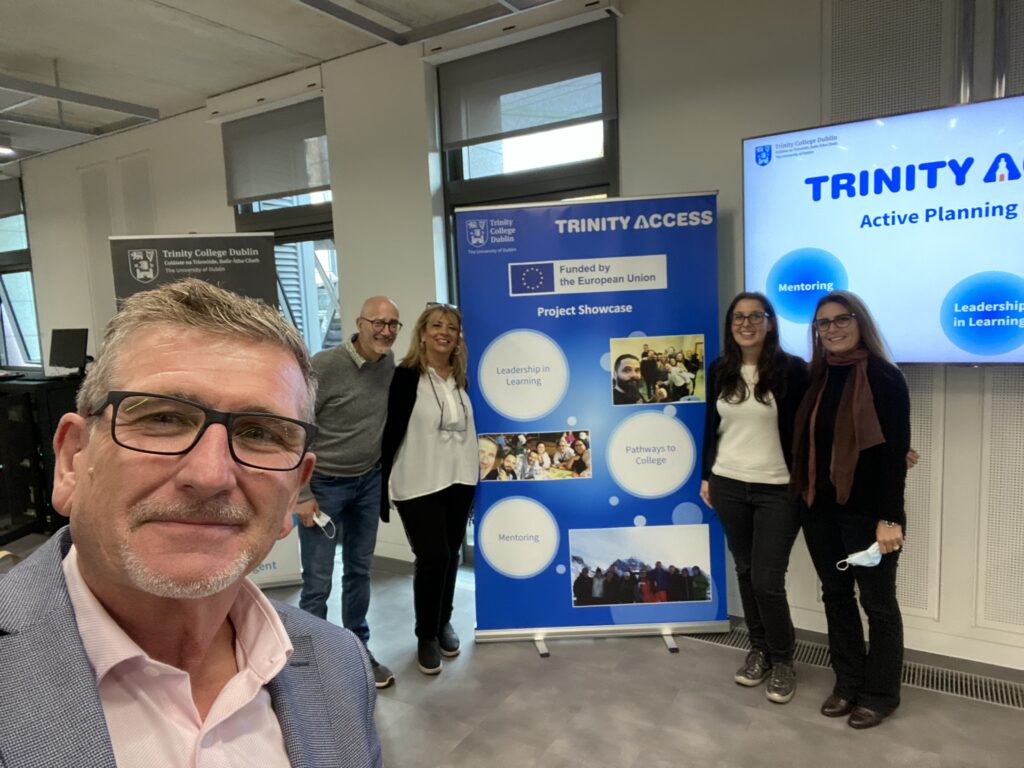 We received a warm welcome by the staff of TAP and TCD and after a fleeting lunch, the rounds of presentations started. It was such a labour of love from the organisation to see so many peers from all over Ireland, so committed and so hard-working, altogether and eager to learn from each others' experiences. Yet, it was really confusing the fact of moving from room to room, but we guess that the COVID-19 restrictions took part in the decision. It was nice to see known faces from other occasions, such as the teachers from Saint Joseph's School in Rush, all those who we met long ago in Oxford and the TAP members that were nice enough to show up at online meetings during the lockdown times.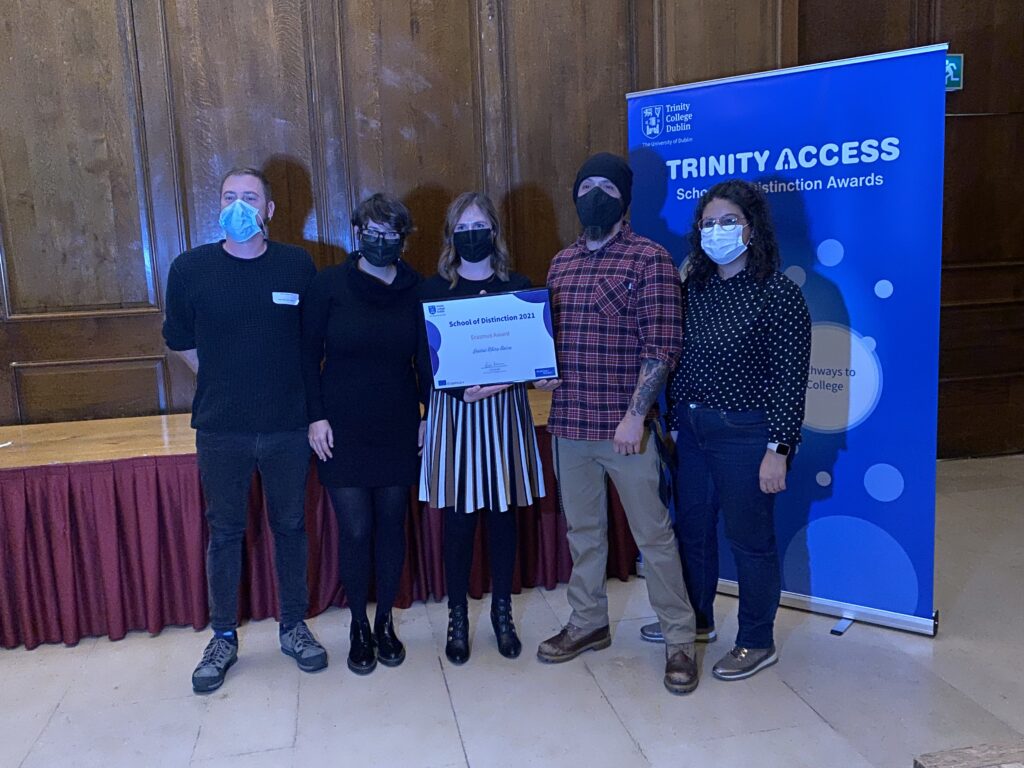 However, our presentations started. First, Donal Byrne, then Lorena Pellegrino and, last but not least, the Spanish team and our beloved piece of work, Libertas. I should say that all us the three partners were flawfless, with the exception that the clock was ticking faster than we had perceived and we were cut in the end of our presentation. Despite the timing, everyone was happy and surprised with our work, yet we felt that one more minute would not have meant any difference to the rest of the event. Well played, all in all.
Finally, after delivering our presentation and sharing impressions with our peers and co-workers, we were led to the Trinity College Dining Hall to share a nice dinner along with the whole gang of teachers, since several School of Distinction awards were about to be handed out. Silvia, one of our Spanish crew members, eventually was told that our school was going to be awarded too and so she told Iñaki, another member of the Spanish contingent who had been picked on for several times by her during the whole stay, so he was not really up to believe anything at that very moment, in spite of Jane O'Hara's apparent connivance towards Silvia. 'Oh, come on…Stop it', Iñaki said. 'You've been making a fool of me the whole trip, Silvia. I don't buy it this time.'.
The moment we heard at the very end of the soirée the speaker saying Instituto Compresivo Val Rendena, Mercy Secondary School Inchicore and Institut Ribera Baixa were awarded with the TCD School of Distinction Award, we were totally skeptical – Not Silvia, by the way –. How? Why? Well, hard work pays off, it is said, and in this case it pays off by handing our school a prestigious award that no school in Spain had been awarded with before. So yes, we are the first ones obtaining such a mention because of the good work other prominent ones think we have carried out, despite the hardship of these times and the difficulties we have had to face, get over and share with the rest of the teachers involved in this project.
But no moments of glory can be understood without sharing it with the others, so after dinner we all shared some beautiful quality time together in a pub nearby, where we spent down the few hours left before sailing back home in a total ambience of wellness, comradeship and the feeling of having done our best imaginable in one of the finest places we could to the eyes of the layman. Pretty sure everyone would be very proud of our work and our school back home.